Our Client's Challenge:
IT infrastructure tends to grow wildly in a "needed yesterday" production environment. Ever expanding product categories, legal and regulatory requirements, competition and market forces accelerate the implementation of must-have applications and feature sets. Before long, a landscape of fragmented applications represents an IT architecture. In turn, the organization becomes more like a federation of groups responsible for inflexible and disparate stand-alone applications. As corporations grow through acquisition, the need to define an overall strategy and to start with clearly defined data models and architectures is imperative.
Our client asked us to help with their wholesale operational support systems. A fortune ten telecommunications provider, our client had been suffering from many of the forces described above.
Our Solution:
IcniVad's team of specialists partnered with IT management and met with internal business clients to understand their goals. The team identified order management as a significant area for improvement, but also proceeded with an in-depth understanding of the overall business processes. IcniVad visited the many operational support centers and found the users of the order management systems ingeniously working around process and system short falls. Our process flows identified unnecessary regional differences and also highlighted the strengths of particular systems.
Through our analysis, one of these regional centers was identified as a lead user, and their order management system was rolled across the customer's entire footprint, eliminating system redundancies. In addition, detailed project milestones specified short and long term system automation efforts that increased operational efficiencies and allowed a reduced workforce to manage increasing order volumes.
Throughout the entire project lifecycle, IcniVad directly supported the large scale application enhancements by providing a team of requirements analysts, user experience designers, software developers, architects, and database specialists.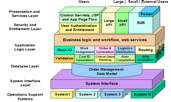 Our Team:
As a result of this project, the client has saved tens of millions in system costs and increased process efficiencies and automation from single digits to over 50%.
Process Analysts
Systems Architects
User Experience Designers
Software Developers
Database Analysts and Designers
Statistical and Computational Analysts