Our Client's Challenge:
The data warehouses that store our client's operational metrics are some of the largest data repositories in industry. They are available 24/7 and include all the information needed to manage the nation's largest telecommunications network. This created a problem for our client's employees tasked with a daily assessment of the health of the business.
How to sift through and make sense of the disparate data presented from 20 different data warehouses? To further complicate their work, each warehouse catalogued data differently. It was not possible, for example, to correlate customer satisfaction data with employee performance data without considerable manual data manipulation.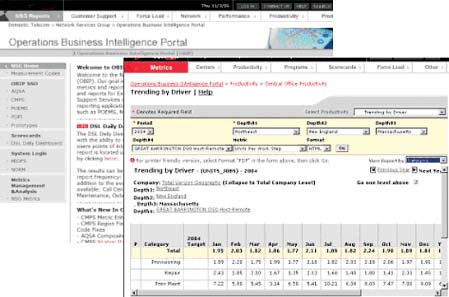 Our Solution:
IcniVad collaborated with our client to create a strategic vision and to develop a metrics platform that seamlessly provides all the information they need regardless of how and where the data is ultimately stored.
IcniVad's team of designers, analysts, architects, user interface engineers, and developers hosted a series of innovation workshops with our client's staff and field organizations, researched best in class business intelligence platforms, and then launched a succession of prototypes to test new ideas. Each prototype was shared and revised until everyone converged upon a final vision
Through the process of iterative prototyping we uncovered many needs that were not addressed by the existing metrics platforms. Innovations such as personalized metrics dashboards, metrics alert consoles, an information hierarchy administration tool, and a novel approach to accessing disparate data sources through a single user interface were all introduced.
The Operations Business Intelligence Platform (OBIP) is now deployed throughout our client's organization and was instrumental to the retirement of 11 data warehouses.
OBIP is our client's strategic platform for all network data and icniVad continues to provide development resources to support the project.
Our Team:
Systems Architects
Business Analysts
Information Architects
Interaction Designers
Database Designers
Applications Developers
Statistical and Computational Analysts
Web Developers